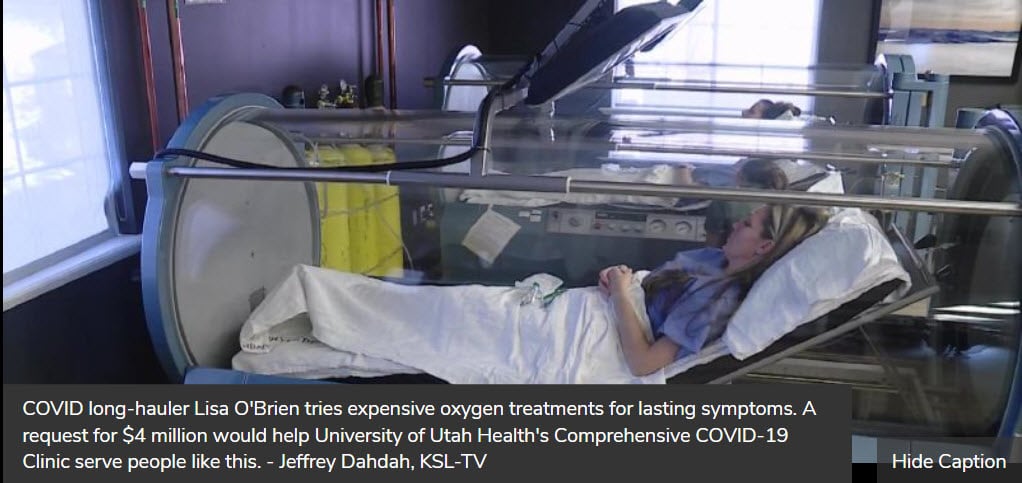 SALT LAKE CITY — For the past several weeks, COVID long-hauler Lisa O'Brien has been trying oxygen treatments for lasting symptoms.
"I heard about hyperbaric chambers and thought, why not just try it," O'Brien said.
She has had COVID-19 two times and the symptoms for each case were unbearable.
"Every time I would stand up my heart rate would hit like 160, I got blood clots. I cycled through over 50 different symptoms," she said.
O'Brien is the founder of the Utah COVID Long Haulers group. Through her journey, doctors diagnosed her with postural orthostatic tachycardia syndrome. In search of effective treatments, she came across hyperbaric chambers. The therapy involves breathing 100% pure oxygen while the air pressure inside the chamber is raised, which helps the lungs collect more oxygen. Getting more oxygen to the tissues that need it can help the body heal and fight certain infections, according to the FDA.
"It is really expensive out of pocket," O'Brien said. "But I feel incredible. I feel like a totally different person. I'm not 100% back to normal but there is something to this."
After experience her own long COVID symptoms, Holly Olson is using her story on Utah's Capitol Hill to ask lawmakers for funding. She spoke before the higher education appropriations subcommittee in support of a request for appropriations, sponsored by Rep. Melissa Ballard.
"It would be for research, to help those that are not insured and really just get people better because that's ultimately what we want," Olson said. "It takes a lot of people to get this figured out."
---
I feel incredible. I feel like a totally different person. I'm not 100% back to normal but there is something to this.
–Lisa O'Brien
---
The request for $4 million would help University of Utah Health's Comprehensive COVID-19 Clinic, which has seen 1,800 long COVID-19 patients since July of 2021.
Dr. Jeanette Brown, pulmonologist and the clinic's director, said referrals continue to stream in, something additional funding would help with.
"We want to reach rural communities, underserved communities that may not have a lot of awareness about long COVID," Brown said. "And a small portion would be for research."
The funding would also help doctors better understand treatments like sessions in hyperbaric chambers. She is hopeful lawmakers will support the request.
"To partner with the state and help as many Utahns as we can, you know, get back to work, get back to going to church, get back to participating in the community, that is the goal," Brown said.
The higher education appropriations subcommittee will make a decision on the request for funding later this session. Brown said the budget would be spent over three to four years.
Cited by KSL-TV