Full Spectrum Infrared Sauna
Infrared sauna therapy makes healing relaxing, comfortable, and safe. By increasing your body temperature with infrared light, our sauna helps improve your cardiovascular health, relieve body pains, detoxify, and so much more!
Learn More
Why Infrared Sauna?
There are countless benefits to infrared (IR) sauna therapy including detoxification, decreased inflammation, increased metabolism, and more! These effects can help improve many chronic conditions as well as symptoms of acute health concerns. Not only does IR sauna therapy improve specific health issues, but it also has immediate relief of day-to-day stress and body aches/pains. So, whether you're looking for a supplemental therapy for a chronic condition, relief from stress and body pains, or simply a way to detox and relax, IR sauna therapy is for you.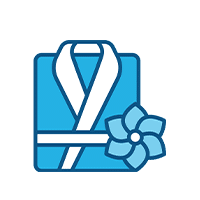 Incredibly relaxing, safe therapy with few common side effects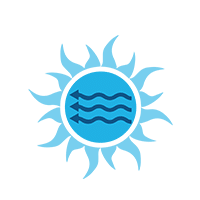 State of the art, full-spectrum infrared sauna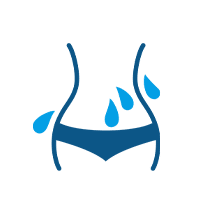 Helps improve circulation, decrease inflammation, detoxify, and more!
Request More Information:
Who can Infrared Sauna Help?
Infrared saunas can help relieve the symptoms of many health conditions, acute concerns, and general feelings of wellbeing and relaxation.
Arthritis(16)
Cardiovascular Disease(20-24)
Chronic Pain(18-19)
Diabetes(17)
Exercise Recovery(29-30)

Fibromyalgia

(34-35)
Lyme's Disease(36)
Neurological Disease(27-28)
Obesity(15)
Respiratory Disease(25-26)
Skin Concerns (pigmentation/aging)(31-33)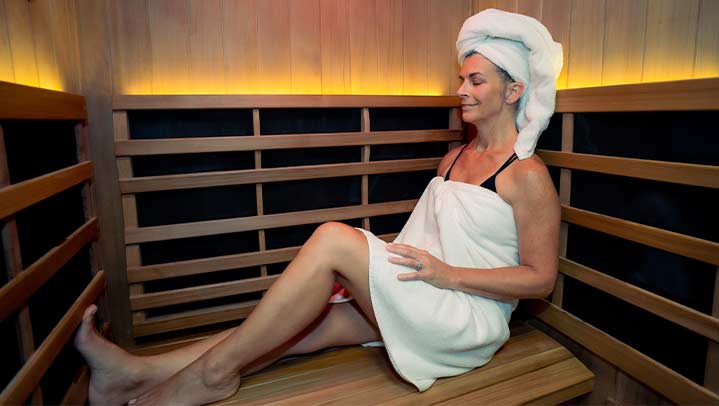 How does Infrared Sauna Therapy Work?
You're probably familiar with traditional saunas if you've ever been to a spa or wellness retreat. While traditional saunas can have great stress-relieving benefits, infrared saunas are another type of sauna that can make an even greater impact on your health.
When you are in an infrared sauna, the light energy which it emits increases your body temperature and causes it to enter a state of thermal stress(1). This thermal stress results in number of physiological changes including increased heart rate and blood flow, decreased blood pressure, increased metabolism, muscle relaxation, and release of beneficial hormones(2-7). Such changes can have immediate relief of stress and body aches, as well as improve many of the systems that are impaired in disease.
Our Infrared Sauna
At Extivita, we use a state-of-the-art full spectrum infrared sauna boasting the lowest and safest EMF and ELF levers of any infrared sauna on the market. While many saunas only use far-infrared wavelengths, ours delivers near-infrared (IR-A), mid-infrared (IR-B) and far-infrared (IR-C) light. By emitting the full infrared spectrum, our sauna penetrates not only the outermost layer of the skin (the epidermis), but the deeper layer of the skin (the dermis) as well(8). Additionally, our sauna delivers over 25 times the power of the nearest clinic's, allowing for the deepest tissue penetration and optimal health benefits.
What are the Benefits of Infrared Sauna?
While the effects depend on the patient, condition being treated, number and frequency of of treatments. Patients who have received infrared sauna have experienced the following benefits in as little as 10 sessions.
Detoxification(9-11)
Decreased Inflammation(12-13)
Increased Circulation(5, 14)
Increased Metabolism(5)
Decreased Blood Pressure(1)
Frequently Asked Questions About Infrared Sauna
How long are infrared sauna sessions? 
A typical sauna session will last anywhere from 30 minutes to an hour from check-in to check-out. All patients must start at 20 minutes unless there are special circumstances. Most patients will be in the sauna for 25-40 minutes, although the session time varies depending on one's condition and tolerance of the sauna itself.  
Are infrared saunas like traditional steam saunas? 
No, they are different! Infrared light heats the body, not the surrounding air, so it is more comfortable and allows you to enjoy a longer session than with traditional steam saunas.   
What are the benefits of infrared saunas? 
Infrared saunas help rid your body of toxins, decrease stress and body pains, and can help improve a number of health conditions.
How should I prepare for my infrared sauna experience? 
Because infrared saunas increase sweating, you want to make sure to rehydrate! Please come to each session well-hydrated, not hungover or after drinking alcohol. Drinking water is available in the sauna room.   
Who cannot use the infrared sauna? 
Infrared sauna use is not recommended for people who are pregnant, children under 12, those who cannot handle temperature extremes, those with hemophilia, fever, insensitivity to heat, and those under the influence of alcohol or who abuse alcohol. 
What can I do in the infrared sauna? 
During your session, we recommend sitting back and enjoying the relaxing atmosphere that a sauna creates. Feel free to take advantage of the sauna's Bluetooth speakers if you would like to enjoy music during your session. Due to the high heat and the sweating which it causes, we do not allow any items inside the sauna.  
What do I do before and after my sauna session? 
We require all patients to rinse off both before and after their sauna session. There is a shower in the sauna room, as well as towels provided for your use. Feel free to bring your own body and face wash.  
What do I wear inside the infrared sauna? 
During your sauna session, feel free to wear a bathing suit, or go in nude. We place towels on all areas of contact in the sauna, and all surfaces are cleaned between use.  
Recent Infrared Sauna News & Research
Extivita services are accessible and offer athletes hyperbaric oxygen therapy and infrared sauna to improve their overall abilities and athletic performances. Many athletes notice the positive effects and overall performance improvements after only...