Hyperbaric Oxygen Therapy Used to Heal Wounds
For many years, Hyperbaric Oxygen Therapy has been used to help wounds heal. The University of Rochester Medical Center describes how beneficial HBOT can be for wound care, especially wounds that are not healing:
Hyperbaric Oxygen Therapy (HBO) is used as an adjunctive treatment for problematic, non-healing wounds that meet specific criteria; it is expected that 10 to 20% of the wound care cases will do so. Over the course of HBO treatments, patients are evaluated to see if the concentration of oxygen has increased in the blood near the wound. If the oxygen level is higher, the therapy is most likely beneficial to the patient.

During the treatments, the patient breathes 100 percent oxygen inside a pressurized chamber, quickly increasing the concentration of oxygen in the bloodstream, where it is delivered to a patient's wound site for faster healing. Essentially, HBO therapy helps heal the wound from the inside out. This therapy can help reduce swelling, fight infection, and build new blood vessels, ultimately producing healthy tissue. It is also effective in fighting certain types of infections, improving circulation, in stimulating growth of new blood vessels, and in treating soft tissue radiation injuries, chronic refractory osteomyelitis, compromised skin grafts and flaps, and diabetic wounds of the lower extremities.
Diabetic Turns to HBOT to Heal His Foot Wound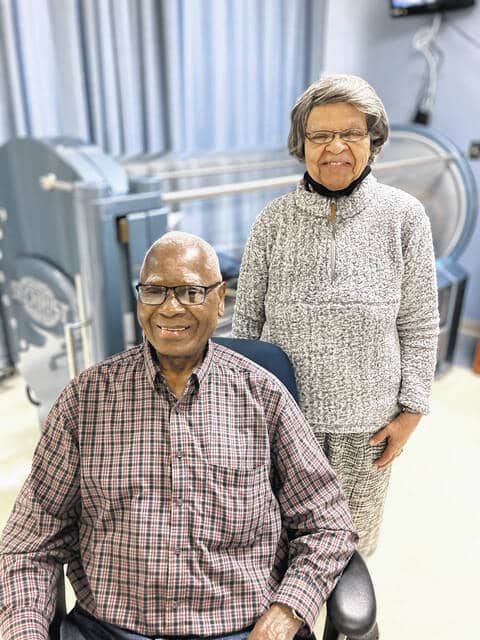 The Robesonian reports how Hyperbaric Oxygen Therapy helped patient James Galbreath, 85, of Red Springs, who has been dealing with an injury to his foot for more than 15 years.
Because he has numbness in his feet as a result of diabetes, he did not immediately know that a nail pierced his shoe and punctured his foot. At that time, he underwent his first round of successful hyperbaric oxygen therapy, or HBOT, treatment at Southeastern Wound Healing Center, an affiliate of UNC Health Southeastern that is managed by Healogics.
Three months ago, Galbreath reinjured his foot and it would not heal because of complications from diabetes. As a result, his podiatrist referred him back to Southeastern Wound Healing Center to save his foot and promote healing through the benefits of HBOT.
According to Southeastern Wound Healing Center Medical Director Dr. Karl Moo Young, HBOT treatment has most likely prevented an amputation of Galbreath's foot.
"HBOT allows blood plasma to carry up to 20 times the normal amount of healing oxygen, which increases blood flow to the wound and increases capillary formation on the wound bed," Young said. "We use HBOT mainly for patients who have diabetic wounds or foot ulcers, radiation injuries, traumatic or acute injuries, progressive skin infections and narrowed blood vessels, which reduce blood flow to the limbs. The typical course of treatment is five days per week for six weeks."
The Importance of Healing Wounds To Avoid Future Health Complications
Chronic wounds affect nearly seven million Americans, diminishing their quality of life and, unfortunately, their life expectancy, according to UNC Health Southeastern. Through the 2023 Come Heal With Us program, Southeastern Wound Healing Center is focusing on educating the underserved chronic wound population about the importance of early detection and treatment of chronic wounds.
Southeastern Wound Healing Center treats chronic foot and leg wounds that are often caused by underlying conditions such as diabetes and vascular disease. People living with diabetes, heart disease or peripheral artery disease are at an even greater risk for health complications that stem from an untreated wound, in fact:
— One in four people living with diabetes will experience a diabetic foot ulcer;
— For those living with heart disease, 82% of leg amputations that occur are because of poor circulation in the affected limb;
— A quarter of people with advanced PAD may require an amputation within one year because of a non-healing wound.
Galbreath continues to visit the center frequently for maintenance care for his foot. His wife, Betty, has been his constant companion for his visits to the center, and they enjoy the fun-spirited atmosphere that the wound healing team offer to patients.
"I've never seen nurses and staff so good," James Galbreath said. "I like to see people enjoy their job and they are so friendly. I could enjoy them every day!"