Legendary bodybuilder Ronnie Coleman is often called 'The King' of modern bodybuilding. Establishing unbelievable dominance, the champion bodybuilder won the Mr. Olympia title for eight years consecutively. Coleman was injured multiple times during his career. He underwent surgeries to get back in form. However, due to medical negligence, some surgeries did not go the desired way for him.
Despite facing major injuries which could have left him bedridden, Ronnie fought back retaining the top position. Bodybuilding as a sport is very difficult because the body has to be at its extreme limits. Some of his injuries still have a major impact on his body to this day.
Ronnie Coleman tries the Hyperbaric Chamber
The legendary bodybuilder, Ronnie Coleman, keeps updating his fans with his life on his Instagram account. Previously in 2018, he shared that his back surgery was successful. This was the tenth time that the doctors had surgically operated on his back to fix four broken screws. After the surgery, he had a long road to recovery. He could only move in a wheelchair. Moreover, he had three more surgeries soon after, taking the total surgery count to thirteen.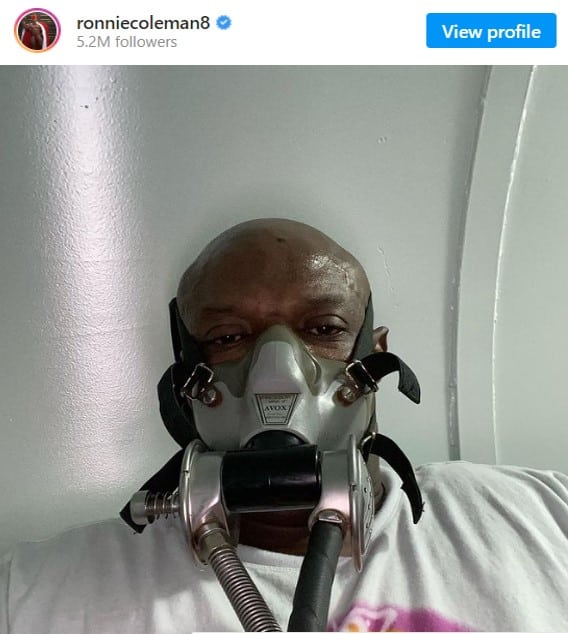 As time passed by, he got back to his feet, but his mobility was not back at its best. Recently, he shared a post on his official Instagram account informing his fans that he was trying the Hyperbaric Chamber in an attempt to retain his lost mobility. Captioning the post he wrote, "Yeah, Buddy finally got a chance to sit in a Hyperbaric Chamber and it quite an experience. One day I will get my mobility back. Perseverance is the key. Quitters never win. As long as I don't give up, I truly have a chance."
The Hyperbaric Chamber is used for Hyperbaric oxygen therapy, which involves breathing pure oxygen in a pressurized environment. A hyperbaric chamber elevates the amount of oxygen in the blood beyond the normal, directly transferring it into all the damaged tissues, jump-starting the healing process.
He began training and participated in Mr. Texas where he won the title both in the heavyweight as well as overall categories, thereby defeating Dobson.
"As long as I have a plan, I have a chance. As long as I'm alive I have a chance to survive and overcome this obstacle," wrote the 58-year-old champion bodybuilder fighting through his medical obstacles.
Ronnie's first Mr. Olympia win
During his college days, Ronnie was a football player. He played for the GSU Tigers as a middle linebacker. Coleman graduated with a bachelor's degree in accounting but failed to find a job. He then served as a police officer in Texas. Ronnie began bodybuilding when one of his colleagues suggested him to train at amateur bodybuilder Brian Dobson's gym.
Coleman's rise in bodybuilding was relatively slow. His first participation in Mr. Olympia was in 1992. Coleman failed to achieve a top-five position in the contest until his first win.