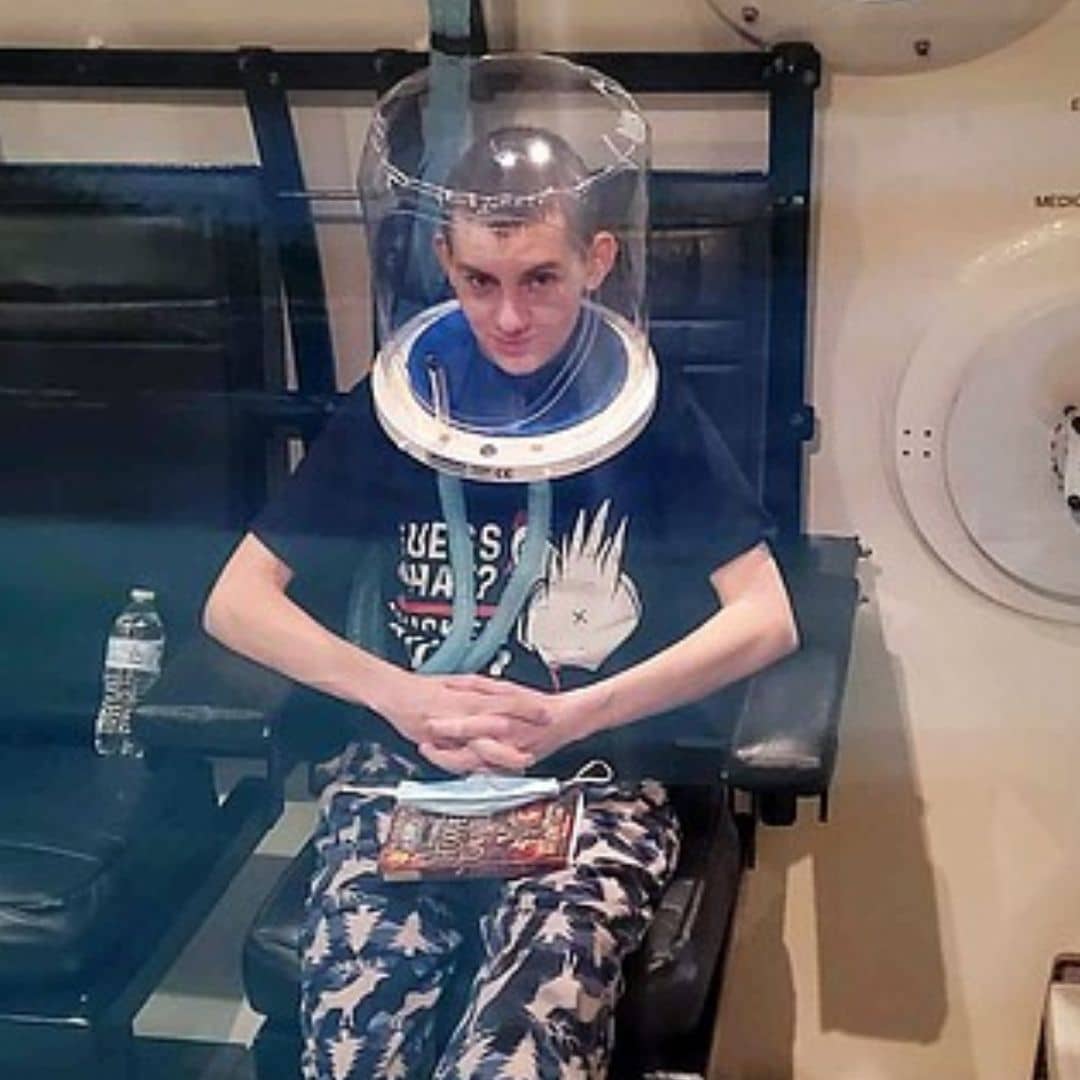 Courtesy Image of David Rachels receiving HBOT
SANDPOINT – David Rachels, 19, has made incredible strides in his recovery since being struck by a vehicle in mid-March.
Rachels was riding his scooter to work when a driver ran a red light at the intersection of U.S. 95 and Schweitzer Cutoff Road on March 16. , The accident, which blocked traffic for over two hours, severely injured Rachels while the driver of the Dodge Ram pickup was uninjured.
Rachels, who was wearing a full-face motorcycle helmet, sustained severe internal and external injuries. With multiple broken bones, a collapsed lung, and many of his internal organs being bruised or lacerated, according to the website GiveSendGo, a christian fundraising site the family used for donations.
After the collision, Rachels's family gave updates about his developing condition via social media. Among those updates came news that Rachels was treated for blood loss and pain before being flown by medical helicopter to Kootenai Health. However, due to the damage to his liver, Rachels was again flown by helicopter but this time to Sacred Heart in Spokane.
Further updates from the family revealed that by March 25, Rachels had made much progress, including having undergone an intense surgery, that he was removed from a machine to assist with breathing, and communicating via blinking.
Jessica Rachels, Davids's mother, said her son's progress has continued at a rate that has surprised and elated both loved ones and the medical team working with the young man. In addition to outpatient therapy and physical therapy, Rachels has had various specialized doctor visits and is now undergoing hyperbaric treatments five days a week for the next 6-8 weeks. Hyperbaric treatments help wound healing by bringing oxygen-rich plasma to tissue starved for oxygen, according to John Hopkins Medicine.
Jessica Rachels said this is why she pushed so hard for her son to go through the treatment as the family had experienced the effects with their daughter. Since starting the treatment, David Rachels has made even more progress including reducing a shake, which his mother said comes from the stroke.
"He's noticed that he's not as shaky. He just had a slight shake," Jessica Rachels said" Two months after the accident, and since starting the hyperbaric, Jessica Rachels said her son has progressed to the point where he is walking, playing Minecraft, and spending time with friends. He is no longer undergoing outpatient therapy, and the main priority is now to help David gain weight, she said.
"Through all of this he has lost 20 pounds and only gained two-and-a-half back," Jessica Rachels said.
The family has received incredible support from the community with multiple local businesses holding fundraisers, raffles, and auctions, Jessica Rachels said it was enough to cover bills, medical expenses, and even pay for the hyperbaric treatments.
"We are so thankful for the community," she added.
Although David still has quite the road ahead of him Jessica Rachels says she and her family are not angry about the accident.
"It was an unfortunate event, but we forgive the driver," Jessica Rachels said, "Our world is so messy/ugly right now due to COVID, politics, the list goes on, so reading about forgiveness, love, faith will hopefully inspire someone to be kind and have hope and forgiveness."
"He is still 100% David," Jessica Rachels said. "It's just awesome, he has his personality."
Article cited by BONNER COUNTY DAILY BEE