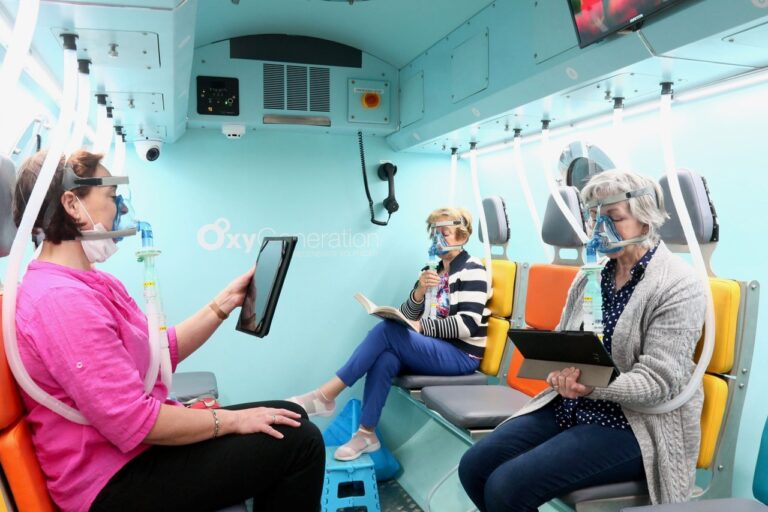 It's over a century since hyperbaric oxygen therapy treatment (HBOT) first gained prominence. Treatment for illness caused by deep-sea diving was the first port of call for HBOT and later aiding the healing of wounds during wartime. The introduction of antibiotics negated its use in treating infectious diseases however its status is having a mini-surge in the medical sphere with a Galway clinic helping to lead the charge.
Established in April 2018 by Brian Lynch, OxyGeneration has experienced a shift in the uses of its facility on Merchants Road in Galway since the pandemic.  Prior to COVID-19, 34 percent of its customers were to do with neurological disorders such as stroke, memory loss, concussion, dementia and Parkinson's, 32 percent were for health prevention leading to NUIG completing a study in this area while presently 33 percent of its business is related to COVID-19.
Brian qualified as a solicitor in 1980, initially spending a year and a half in Kerry before his work took him to Co Clare where Ennis Courthouse was a regular fixture in his weekly life. However, it was a fox hunting accident on 9th March 2015 which would change his life, personally and professionally.
This serious riding accident resulted in a broken pelvis plus several internal injuries, a temporary surgery saved his life and he has made a full recovery which included a total of 57 sessions in the hyperbaric chamber in Dublin and a further 37 in Galway. "When I started off, I was so bad with my chest in hospital, that physiotherapists had to come twice to help me to just cough. I noticed improvements straightaway. At the sessions, I met people who avoided having to have their bowels removed; a lot of people who had diabetic foot ulcers who did the sessions to save themselves from having an amputation and a variety of other ailments. It impressed me and inspired me," Brian recounted.
Presently, there are two such chambers in Dublin, one in Wexford, one in West Cork, one in University Hospital Galway and one at OxyGeneration's clinic with plans in motion to add a second. 14 people can fit in their clinic at one time, the space of which "is bigger than a Government learjet," the founder pointed out.
Peer-reviewed medical journals have supported findings from scientific evidence early in the pandemic whereby doctors calculated that HBOT would work as a treatment for long COVID, chambers all over the world have since reported improvements from this method.
HBOT involves breathing in oxygen via a mask while sitting in a special purpose built airplane-like cabin in which the pressure is raised. The higher pressure means more oxygen gets into the blood and into injured cells that need repair. HBOT is used to reverse the tissue injury caused by severe hypoxemia (low levels of oxygen in the blood) and hypoxia (low levels of oxygen in the tissues). Injured tissue is targeted as part of the treatment which stops inflammation from injured cells leaking fluid.
Sessions typically last eighty minutes in what Brian has labelled "quite a pleasant experience" with the only possible discomfort being "the sensation of ears equalising like on an airplane". Speaking to The Clare Echo on Monday, he flagged that the chamber was booked out, "it's getting busier all the time". He added, "Since the 1st of January, the number of GP and consultant referrals has doubled," the figure rising from four to eight percent. They even received a referral from a specialist in New York City while he noted there is "a good few people" from Co Clare coming to the chamber.
While HBOT is reporting examples of successfully curing long COVID, Brian has observed reluctance in certain quarters. "I found journalists are as conservatives as the doctors, journalists are afraid to say this is a cure for something, they are shy about it. In China and South America, it is used to save people's lives for COVID and were seriously ill, I was in touch with the man in China who did the first study on this and the same in America with the person who did first study, it worked, it saved lives," he stated.
An offer by OxyGeneration for University Hospital Galway (UHG) to use the facility free of charge at the height of the pandemic "before anybody died" was refused. "We knew it was a shortage of oxygen but the offer not accepted. We even offered for frontline nurses or doctors who had long COVID to do a trial here for free," he added.  According to Brian, the hyperbaric chamber at UHG "is underused".
Seeing positive results has been "extremely gratifying," the Salthill man admitted. He said, "One lady in the chamber said her feet were blue from lack of circulation, she had no feeling in her toes for nine years but she could feel her toes again after one session. The pressure gets into tissue that it was not getting into previously".
Other examples by the solicitor include the lifting of brain fog from long COVID sufferers and how an ex Galway footballer who suffered with an Achilles injury for twenty four years experienced "fantastic relief" in ten days.
Demands and exposure for the business has increased considerably on account of the pandemic and various testimonials but Brian has also found time to write a book on oxygenation which he is hoping to publish shortly.
Article cited by CLARE ECHO